Melissa is one of the fastest growing cities in north Texas, with excellent schools, fast growing communities & new businesses.
Melissa is home to the nationally renowned sports facility, The Z-Plex and a Texas icon - Buc-ees. Dutch Bros roasting facility, Kroger, Walmart and HEB, among numerous other businesses will all be opening between 2024 & 2026.
Melissa enjoys many family events provided by both the ISD & Melissa Chamber of Commerce. Our small town spirit still holds strong as we grow past a population of 24K.
Discover what's at the heart of Melissa! You will feel the energy and excitement of our city at any of our events – be sure to mark your calendar and join us!
Be a part of the 2024 Melissa Community Guide Book - sign up for your business ad space and highlight your business. The Melissa Community Guide is given to all businesses to hand out, schools, events around Melissa, new home builders and in HOA welcome packets as can be arranged. It is also online right here on our homepage. We also receive relocation requests across the USA for the guide book so the reach of our community guide is extensive - don't miss out on this opportunity!
Learn More
Our 2024 Annual Banquet is the highlight of the year! Board members, Ambassadors, Business Owners and Leaders, Community Members, Leaders and our incredible sponsors come together to host an evening of superb food, fun and entertainment culminating with a silent auction that typically turns into a fun live and competitive auction!
At our annual banquet event, we honor Melissa's Large Business of the Year, Small Business of the Year and Person of the Year with an award - each nominated by businesses and community for their outstanding contribution to our community.
So register or sponsor today and be a part of starting 2024 off right and celebrating our city!
Learn More
Held in the spring and fall of each year in the heart of Melissa's historic downtown area, businesses, sponsors and vendors come together in our community to showcase their businesses, connect resources and enjoy some great family fun with live music, a kids fun area and lots more!
Read More
Welcome to our house! This casual evening of wine & tasty hors d'oeuvres proves to be a wonderful opportunity to kick back and relax while enjoying the company of fellow members in our house. Come visit us & enjoy a glass together!
Read More
Melissa may be a small city but there is always a highlight!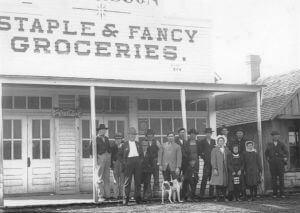 C.H Wysong settled here in as early as 1846. The location of the post office was at Foster Crossing about…
Read More